Kathryn Bell - Ackworth's New Head, a potted history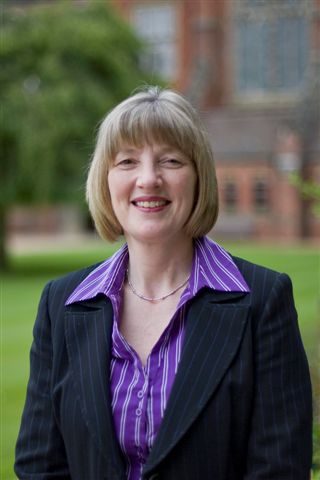 Kathryn was born in South East London and is married to Graeme. She has four children aged from 14 years to 20 years, is a Freeman of the City of London, is passionate about music, thoroughly enjoys singing and is a former county netballer!
Kathryn's educational background encompasses both single sex and co-educational institutions. She herself was educated at Haberdashers' Aske's Hatcham Girls' School in South East London. After gaining a BSc Combined Honours degree in Biology and Geography at Exeter University in 1980, she went on to gain her PGCE at Exeter University's School of Education, St Lukes. In 1981 her first teaching appointment was at S. Michael's Burton Park, a Woodard School in Petworth, West Sussex. In 1986 she moved to a large comprehensive School in Crawley and then went on to teach at Brighton and Hove High, a GPDST school. She left this full time post to start a family but continued to teach in all parts of the school from the Junior department to the Sixth form on an 'ad hoc' supply basis. Four children later, Kathryn returned to teaching at Burgess Hill School for Girls in 1997 and then went on to be Head of Biology at Ardingly in 2002. The following year she was appointed Head of Science and a year later was promoted to the Senior Management Team at Second Deputy with specific responsibilities as Director of Co-curriculum. She is a Member of the Institute of Biology and a Chartered Biologist. As Second Deputy at Ardingly College, a Woodard co-educational boarding school, she had specific responsibilities as Director of Co-Curricular Activities to oversee the pastoral care of staff and students which included ensuring all pupils had access to a wide programme of activities including music, drama, art and sport. She has considerable experience and a strong commitment to co-education and boarding school life and possesses the enthusiasm, experience and vision needed to lead and further develop Ackworth School's outstanding potential. She is a communicant member of the Church of England and strongly endorses the ethos of encouraging all pupils to develop their love of learning in a caring and support community with clearly defined values. Kathryn whole heartedly support the core values at Ackworth which include the importance of respect for others and honesty at all times as emphasised by the Quaker faith. This helps to produce an all important calm, friendly atmosphere which is supportive and reassuring for young people.
Kathryn is values driven and passionate about education. Ackworth is a school that she was immediately drawn to as it is a forward looking school with a strong boarding ethos. It values the uniqueness of the individual and offers a full programme of academic, social, sporting and cultural activities which take place beyond the academic timetable and it embraces a full programme at weekends. Ackworth students are given the opportunity to discover and develop their various gifts and talents and to discover from their daily challenges a sense of purpose, self-discipline and respect for others. Students are treated equally within the body of a caring environment.
Kathryn considers the education delivered at Ackworth is unique with students given opportunities to appreciate the awe and wonderment of learning in a safe environment. Ackworth believes in self-discipline and respect for others and seeks to prepare its young people to play a proactive part in a rapidly changing world. These are crucial elements for life in the world today. Above all it is a school full of enthusiasm, compassion and drive, and a true family.
She is extremely honoured and proud to be the new Head of Ackworth, a truly excellent school in every respect. The school is a friendly, open and purposeful community where every member is encouraged to share their own specific gifts and talents. Students are encouraged to think creatively, to question, to set themselves high standards and to work hard to achieve their own individual goals. There are numerous opportunities on offer both within and outside the main curriculum. Staff have high expectations of students challenging them appropriately thus enabling every single member of the school community to reach their full potential. Ackworth is a Quaker School and is rightly very proud of its origins and roots. Its Quaker ethos emphasizes quiet reflection, respect for others, and seeking good in everyone. This ensures a calm, friendly and supportive atmosphere in which all pupils can thrive. There is within the school a climate which promotes outstanding teaching and effective life long learning, high standards of achievement and good behaviour throughout. What more can a discerning twenty first century parent ask for!
Everyone coming to the Ackworth is guaranteed a very warm welcome. Students are more than happy to share with visitors, prospective pupils and parents their own personal views on what makes Ackworth School so very special. It is indeed a unique place which cannot and in fact must not be kept a secret!