Helen Willis died recently. Her daughter, Sue Hepworth, asked for the following Obituary to put on the site.
Helen Willis 1917-2008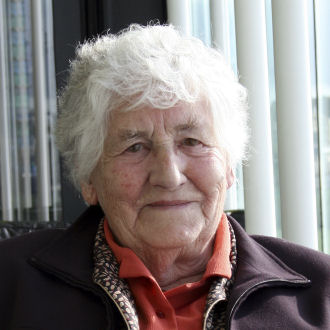 Helen Willis was a well-known resident of Wensleydale, whose life was not marked by outstanding professional achievements, but whose influence was profound. She was like countless people who live quiet, modest lives but whose loving nature and strength of character are appreciated by their family and many beyond.
Born near Bedale, Helen Barron was an identical twin and was educated at Ackworth from 1929 to 1936. There she combined mental acuity with extraordinary physical vigour, qualities that she maintained throughout her life. She captained both the hockey and cricket teams, and gained a 1st class Instructors Certificate of the Royal Lifesaving Society. As well as being a keen sportswoman, she had a passion for handicrafts. In her last year at school she was Head Girl. M.F.Hartley, her headmistress, said that Helen "exercised her authority with firmness and good humour." She first met her future husband – Frederick Willis – at Ackworth.
Helen graduated from the Rachel MacMillan Training College for Nursery Education. She played hockey for Kent while at college, and later played for Lancashire.
She was called up a month early to her first teaching post at Hunslet Nursery School in Leeds in August 1939, to help evacuate the school to Bramham Park, the home of Lord Bingley. For the first few weeks, the children and teachers lived, worked, played and slept in the ballroom. She was on duty 24 hours a day, seven days a week.
She worked as a nursery teacher until her marriage in 1944 to Fred Willis. They set up home in a farming community of conscientious objectors at Holton Beckering in Lincolnshire. After 18 months, the couple moved to north Lincolnshire, on Fred's appointment as a Farms Manager. There they brought up five children.
After a spell in Derby, the couple moved to Aysgarth in 1972, and played a full part in village life, with Helen particularly making sure to welcome newcomers and include them in local activities.
She was a long-time member of Leyburn Quaker Meeting, serving the meeting in a number of different offices. In 2003, aged 85, she attended a peace demonstration against the Iraq war. For her 90th birthday, she held a garden party to raise money for the Yorkshire Air Ambulance.
She was a prize-winning bridge player and a talented craftswoman. Her intellectual curiosity was insatiable and wide-ranging, and included nuclear physics, mathematics, engineering, astronomy, education, code-breaking and architecture. In her sixties she learned to use a Braille machine in order to work as a volunteer translator.
In her early eighties she went on a 24 hour winter trip into the arctic circle to see the Northern Lights. In her late eighties, she learned to use email to correspond with her large, far-flung family.
Helen Willis laughed easily and bore difficulties with casual fortitude, refusing to be cowed by any adversity. She was self-effacing and talked little of her considerable achievements, but was ambitious for others, giving encouragement, support and praise in equal measure.
She was an indefatigable maker, producing craftwork of grace and vigour until shortly before her death. Her making was carefully matched to the tastes and interests of the delighted recipient, who recognised not only her skill, but the love which had gone into the making.
Helen Willis died on 30th October 2008, after a brief illness borne stoically, with her usual dismissive disdain for her ailments. She will be missed immeasurably.